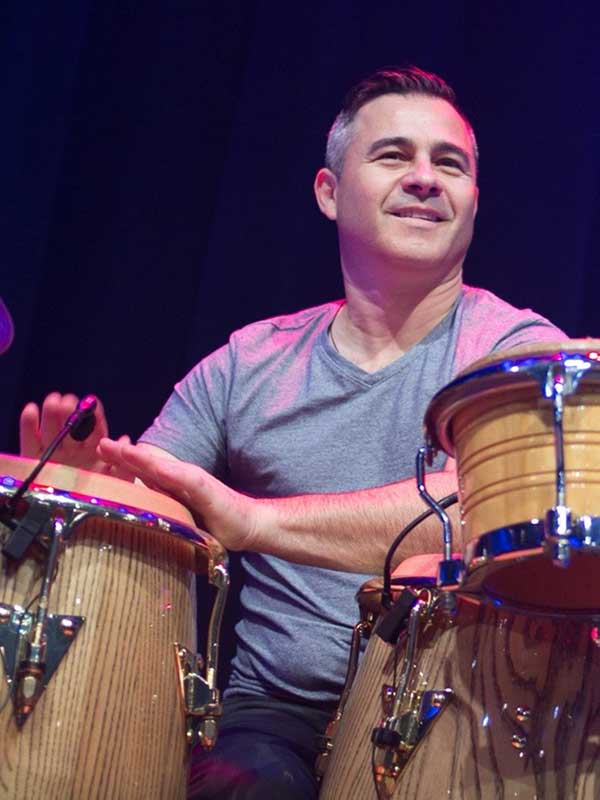 Gino Mirizio
Musician/Percussionist
Gino Mirizio is a major talent who has become recognized as a highly accomplished musician/percussionist. Gino is exceptional in demonstrating a remarkable level of skill in a wide range of instruments, which include the congas, bongos, timbale, cajon, djembe, dumbek, udu, as well as the traditional drum kit.
Toronto's Humber College gave him a solid musical base to build on, and since his graduation in 1993 he has worked hard to hone his skills to their present level. Though he began his musical career with a jazz bias, over the years he has added latin, rock, funk and classical styles to his diverse repertoire.
Always excited to expand his musical horizons, Gino began performing and recording with the psychedelic rock band, Freedom Rains and appeared with them on his first CD. He later worked with Spanish guitarist Johannes Linstead and added three more CD's to his recording credentials.
A fortunate meeting with renowned impressario Bernie Fiedler resulted in a highly successful tour with the "First Lady of the Guitar", Liona Boyd. It was this tour which introduced him to the band Pavlo, a happy encounter which resulted in Pavlo asking Gino to join his group and tour with them. They have since toured all over the world together, delighting audiences everywhere with their exciting "Mediterranean" rhythms.
Gino's playing has benefited from his associations with musical celebrities such as Memo Acevedo, Roger Flock, Don Vickory, Paul Delong and Vito Rezza. He has nonetheless developed a style which is uniquely his own; his charismatic stage presence engages his audience and carries them along in many exciting new directions, where they are only too happy to join him.